Tacos and pasta are two popular meals in our house. Whenever either of these dishes shows up at dinner, it is met with praise for mom and clean plates. That's why they are on the regular rotation. And that's why we get a little tired of them after a while. Too much of a good thing leaves us looking for something a little unique every once in awhile. Not so unique that the kids won't even try it, just a little something different. That's why I love this recipe for taco stuffed shells.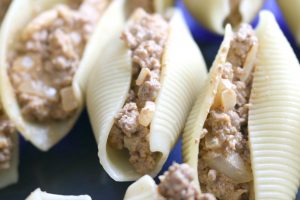 The pasta shells seem a little strange but they totally work! And the filling? Delicious! The seasoning is simple but so good. And nobody minds that these shells are covered in melted cheese and crunchy tortilla chips that get a little toasty in the oven.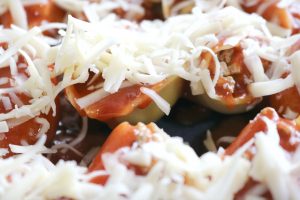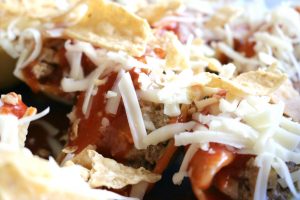 In our house, we like to put dishes of salsa, sour cream, and sliced black olives on the table for topping.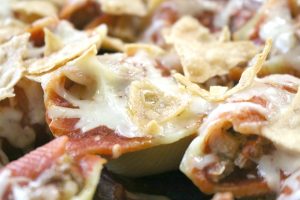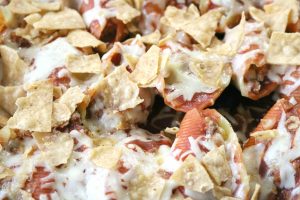 Whenever a friend has a baby, or a neighbor has surgery and can't cook, make a double recipe and send one over. It always gets rave reviews and it's a refreshing change from the well loved, but predictable casseroles that will be on the meal train!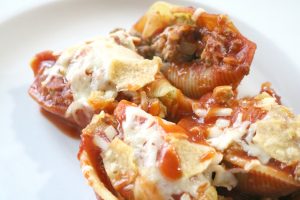 Try my recipe for taco stuffed shells if you are ready for a change from the regular dishes you make, but still what to hit a home run with the kids!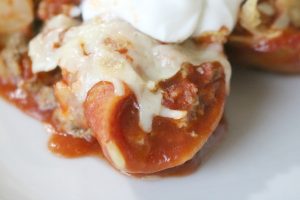 Ingredients:
1 lb ground beef
4 oz cream cheese
1 small onion
24 Jumbo pasta shells
1 cup shredded Monterey Jack cheese
1 tsp chili powder
1 teaspoon salt
2 cups smooth taco sauce
Tortilla chips (about 10)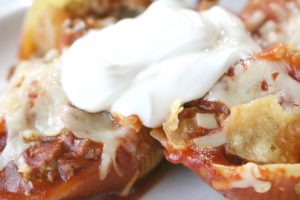 Directions:
Brown the ground beef and onion, then drain. Stir in cream cheese, chili powder, and salt then remove from heat. Cook the pasta shells until al dente. Stuff each shell with 1-1.5 tablespoons of meat mixture and place in greased 9×13 dish. Pour taco sauce over shells, sprinkle with cheese, then coarsely crush tortilla chips on top. Bake at 350 degrees, covered for 20 minutes then uncovered for 10 minutes.
Looking for more dishes like this? Try my tex mex dip!